The holidays are without a doubt, busy and hectic. If you're one of those people who are always hosting gatherings, parties and the like, listen up! This post is for you. Today is all about getting the most out of your Christmas decor and extending them straight through to creating a festive New Years setting. I'm showing you how decorating for Christmas and New Years doesn't have to be a big expense or headache.
A few weeks ago, I headed into Lowe's to pick up some new pieces for the holidays. I went a little overboard and ended up deciding last minute to toss my old tree and invested in a new one that looks a LOT more real. You'd be embarrassed for me if you saw my original college one. I also scooped up a few new ornaments and accessories for the home. While at Lowe's, I basically just stood in the Allen + Roth holiday section and picked up every single shiny shimmery metallic and white item I could find.
I figured the best way to create a Christmas setting AND a New Years one was to stick to a theme and a metallic and white one was perfect. This way it all felt more like a winter wonderland and not a kitschy Christmas with green and red. Also, this way I wouldn't have to create a whole new look for NYE which is just days after Christmas since the theme easily works for both holidays.
I used to always do a silver and red theme for my tree and have officially tossed everything after this shopping haul. These white and silver pieces and copper beauties have replaced everything. I figured it was time for an upgrade anyway considering all the things I had were over 10 years old and screamed college days. I'm ashamed to even admit it, but so many of my old ornaments were plastic and plain old childish. Grabbing all the pretty ornaments got me so excited to start decorating for Christmas. I threw on some Christmas music and went to town!
These new Allen + Roth pieces feel sophisticated, modern and a lot more grown up. I also swapped out my little heart marquis on my gallery wall with their snowflake one (available in store). It was the perfect swap and this way my gallery wall feels like it's playing a role in the holiday decor. I also set the scene with a little Christmas cookies for Santa on this Allen + Roth black and gold plate that I set on a gold tray I had lying around the house.
PS as you scroll through today's post, you will see that some of the images are shoppable. Just hover over them to see the items to shop!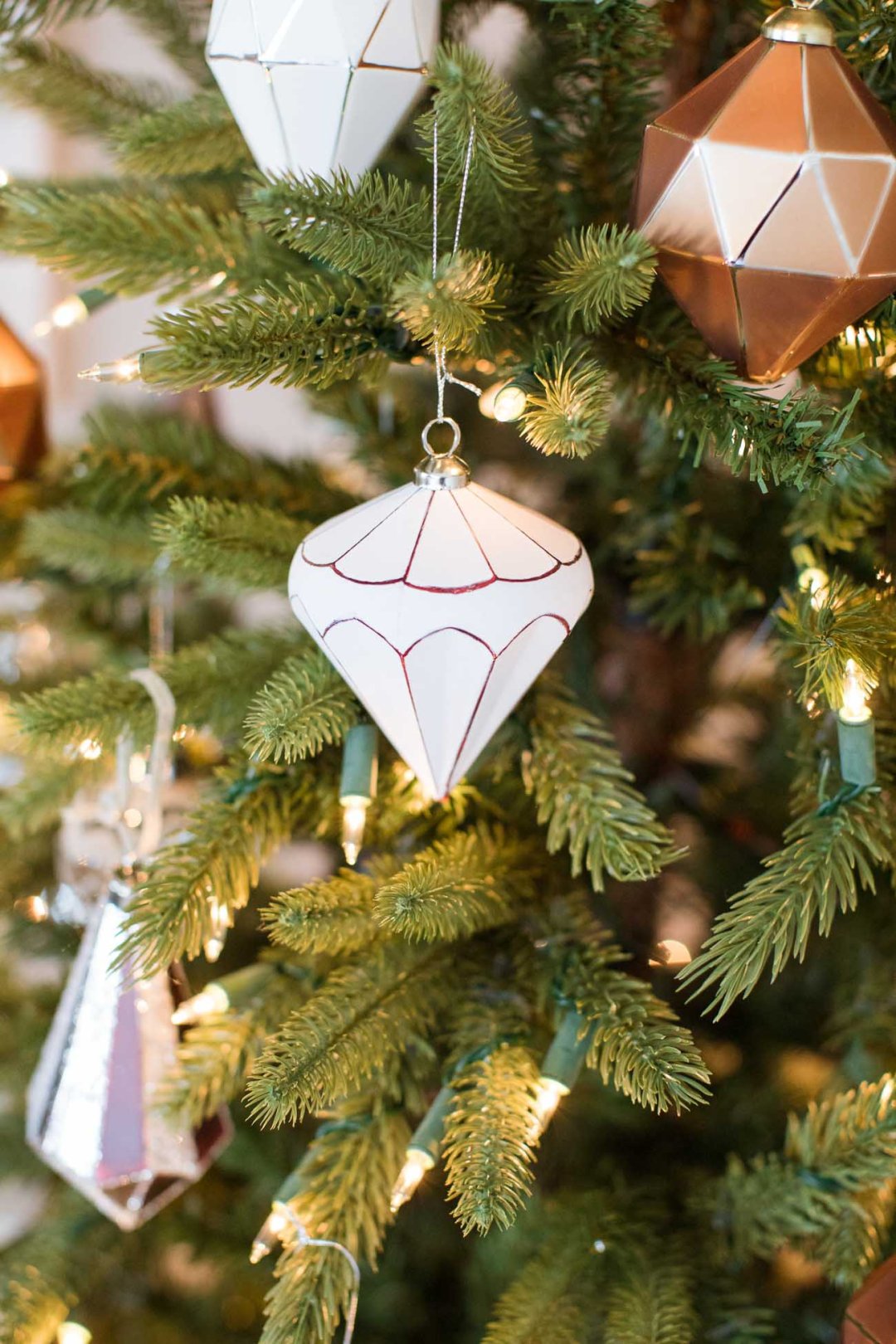 Now onto New Years Eve. I'm not one that's into NYE at all. I regrettably always go out with friends to find myself miserable and tired the next day. If you ask me, it's not the best way to start off the year. This year, I'm thinking of having a few friends over for dinner and keeping it super low key.
To easily take these pieces from Christmas entertaining to an intimate dinner for NYE, I simply did a few things. I pulled a few ornaments off and added them to my table with these fun metallic trees. This made the table feel like a winter wonderland instantly. For the table setting, I stuck with the metallic and white theme and added in these blush and gold plates to tie in the pink in my home. Lastly, I used these snowflake gift tags for place cards. They feel wintery without feeling like Christmas. I just love how it all came out and can't wait to plan up a menu for NYE.
With a few simple swaps you can very easily transform your space from one winter holiday to the next. There's no need to completely transform or redecorate. Keep scrolling to see the whole look!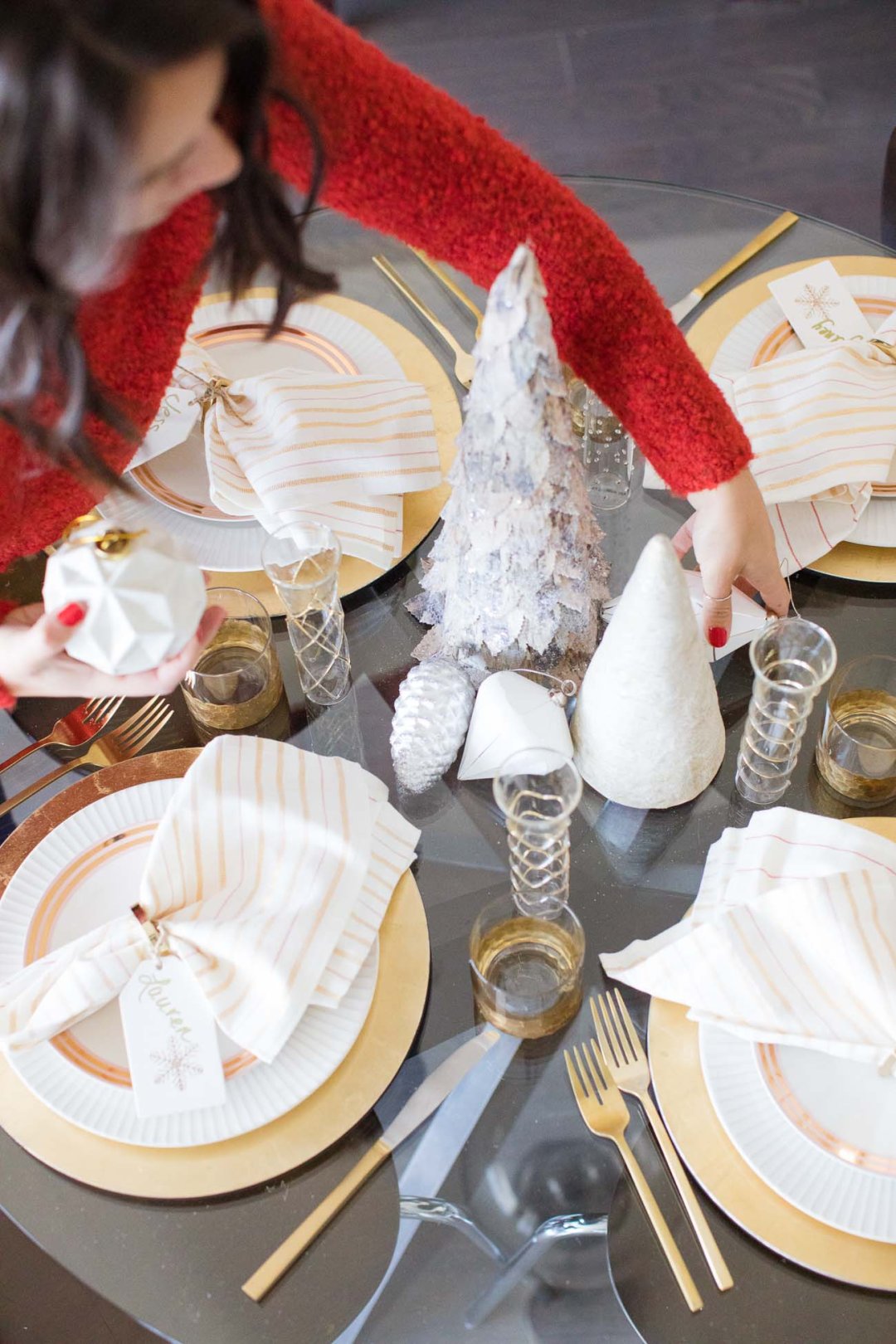 This post was written in collaboration with Lowe's. All opinions and views are my own.